Local News
VIDEO: Nigerians react as young Muslim boy spotted praying in front of a church
A video has been making the rounds on social media, showing a young Muslim boy praying in front of the Redeemed Christian Church of God
The video was recorded by a curious onlooker and Nigerians on social media have shared their take on the interesting situation.
Though, religion is supposed to be a thing that brings people together but in Nigeria, it seems to have become a touchy subject with each sect constantly arguing on which is better or the right path to God.
Many followers of the two major religions in the country, Islam and Christianity, get along fine most of the time but some situations can lead to a different outcome.
Just recently, a video has been making the rounds on social media, showing a young Muslim boy praying in front of a church.
Popular activist, Aisha Yesufu, also shared her take on the video and according to her, if the boy gets the offer of a better life and drops his begging bowl and enters the church, Muslims will say Christians are converting their people.
See the screenshots of the young boy praying in-front of the church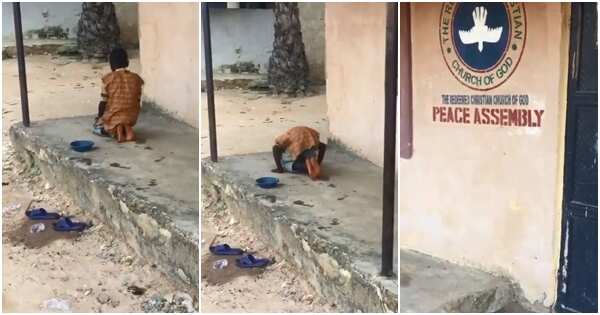 In a subsequent tweet, Yesufu explained that Northern Muslims have not envisaged the problem of their youths diverting to other religions.
See the Nigerian reactions
@AishaYesufu In case you still don't realise I WAS BORN AND BROUGHT UP IN THE NORTH. KANO PRECISELY!
I can tell you the North that most of you ajebutters of the North don't even know exist because of the invisible caste system of have and have nots bedevilling the North.
@AishaYesufu The bigger problem the Northern Muslims have not envisaged is future lure of young adults and teenagers into other religions. Do you see the number of Muslim beggars at churches? Some know the worship timetable more than the church members. They see prosperity! That is a big lure
@JohnAde04 Christianity teaches tolerance more ,then also the boy was just praying not preaching not shouting or do some things that may be categorise as noise ,the lesson there is tolerance which every religion should embrace.
@gbolaruce God didn't bring us to the world to segregate ourselves, he gave us the same organs , same body features , religion should never set a difference… I respect the boy and the church, it's all in the worship of God almighty.
@Ash_like In order to pray as a Muslim you need to find a place clean face the east and just pray to God. The boy also might not be aware it is a church. But God answers prayers from anywhere
@onyiforlife Christ is love but this is not possible in front of mosque Christians tolerate a lot from Muslims.
@Adisa_Adebowale I don't understand this tweet please explain. I don't think the boy was there preaching with megaphone and I don't think he would have prayed there if service was going on there.
@raylubem A particular Muslim group is given space to worship their God in one of the most productive/Productive Catholic Sec Schs in Nigeria. Mont Saint Gabriel Makurdi
@slaswhyte And some group of Christians do have fellowships in Anwar-ul Islam College in my secondary school days. Religion should not blind us from little things. With understanding of nature & humanity we can coexist. Peace & love is d greatest religion.
@Kingsheriff 28 March 2016 a mosque is Moscow allowed Christians to us the place to worship
In Washington there's a mosque that shared place of worship with Christians. House of unity. I've prayed in a pastor's office b4.
@Prince_Drissy I don't usually agree with your perspective about most issues, but this you are right on point, my granny and my uncles do say things like this, Christian organization try to provide better opportunities to the needy than their Muslim Organization in NIGERIA.
See the video:
(Visited 892 times, 1 visits today)